Finished - the Kate tank, version 3.0, with a side of refashioning
So I'm doing something here that is very much not my usual over-organised list-loving order-loving
slightly controlling
self. Blogging something out of order. Yep. Don't I look smug about it?
This is the third version I've made of the
Tessuti Kate top
. Version's 1 and 2 will get their time in the spotlight, along with a proper review of the pattern. Today's post is really more about the origins of this fabric, because, in a move that surprised me, I've got me a
Refashioners 2016
entry right here. Up until 2 weeks ago I had a total of zero intentions of entering. Refashioning isn't really something I'm great at, although I'm more likely to refashion something I've made that's gone awry, simply to be able to save a fabric that I love.
This year's Refashioners is of course all about jeans. And whilst I
absolutely
admire the skill and imagination that so many have exhibited for this challenge my personal style was never going to be one that would be comfortable in a garment that obviously used to be a pair (or pairs) of jeans. Just not me - I'm just not avant gard enough to pull something like that off. Until I remembered
this top by Lucky Brand
that I had pinned, with the Kate top in mind: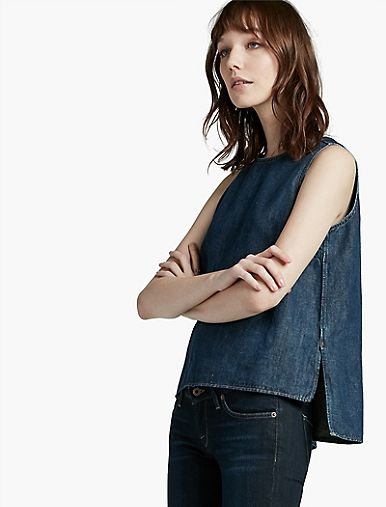 Simple, chic and clearly denim.
So I got my Kate pattern out, retoiled it into Version 2, and worked out the minimum width of fabric I'd need, knowing straight up that I'd have to add a seam down the front and back. I knew I'd have to find some wide legged, lightweight jeans and initially tried to find a pair of those hideous tencel treasures from the 90's but no luck. Plan B found me at Savers, pawing and palpating through the racks until I found this pair of plus size stretch denim jeans for $6.50. There were actually heaps there, and I vacillated between colours and weights, eventually making my choice based on denim weight. I wanted something as lightweight as possible. They are a cotton-poly-lycra blend, not dissimilar to the kind of fabric needed for the Safran jeans - super stretchy. Close up the denim has a nice kind of cross-hatchy visible grain. I didn't notice there was a bit of a flaw in the denim until I was home, and unfortunately I had to use that part across the front but it's not super obvious and all part of the refashioning ethos isn't it - things don't need to be perfect.
I forgot to take a before photo, so here's a quick mid-unpicking shot where I've (slightly rashly) lopped off the hems and unpicked the inseams. I really wanted to use one of the button plackets as the neck opening for my top but it just wasn't going to work (and BTW that's my new little furbaby helping out as only cats can. From this view he looks basically identical to my old girl which was a little hard at first but when one rescues one cannot choose the fur coat colour.... He's settling in a treat.)
This was what I had leftover in the end. I was able to cut 2 fronts and 2 backs, with a central seam allowance added, and only had to piece a small amount for the seam allowance of one of the mitred hems on the front. I was pretty happy to get everything on grain. I did try to use a pre-existing seam in the centre of the front and back but there was no way they'd be on grain, and with a fairly heavy fabric I knew the top wouldn't sit well. I also unpicked the zip, and was able to use it as an exposed zip on the back. I saved the buttons from the pockets too for a future project.
Alterations to the pattern, beyond what I had already made in my second toile for fitting purposes (extended and raised bust darts, raised armscye a little, took a dart out of the neckline) included the central seams (obvs) and adding length to the back. Due to the beautiful drafting of the mitred hems I had to add the length mid-way between the notches on the back piece only - very easy to do. I decided to finish all the raw edges with my overlocker before sewing it up, so seams could be pressed open and the mitred edges didn't need to be folded, to reduce bulk.
Seriously those corners totally get me in a spin. So pretty - how did I make that?!
Here's some derpy pics to show the high-low hem. I assure you in real life I don't tend to stand this way:
My exposed zip is a little average and definitely a bit crooked but I can live with it. What I can't see stresses me not.
Everything is topstitched in navy. I considered a contrast thread but decided a minimal look would look a little more polished.
The verdict - really pleased. I'm so delighted I perfected the fit on this super versatile pattern, and I think the denim was a great choice. So thanks Portia - would never have given it a go without you! :)