Rambling thoughts on knitting plans - lots of pretty pictures!
It may seem a bit strange to be writing this on the first official day of the Australian summer, but when one has a new addiction/passion/love mere dates, temperatures or seasons cannot stop one from ogling beautiful patterns and falling down the Ravelry rabbit hole! I think the great thing about the Southern Hemisphere being a season behind in terms of fashion (and therefore sewing and knitting fashions) is that we can see all the lovely new things being tried and tested, then we can swoop in and use up all that experience and advice with our own makes!
And of course the hard thing about knitting, especially as a beginner, is that once you graduate to from making scarves to making garments each item can take so. damn. long. At least if I am sewing chances are my project will be finished in less than a month (and usually less than 2 weeks) - and the mental queue of future sewing projects doesn't seem quite so overwhelming. So it's only natural that the delay of knitting gratification causes one to make crazy long term unrealistic plans - or is that just me? The good thing about such long term plans is that it does give you time to think sensibly about how it will fit into the wardrobe - colours, styles, which garments it will work with, instead of rushing headlong into making something that might be pretty but not really a great fit with the rest of one's wardrobe!
I know many sewists/crafters just LOVE the planning stage. I'm no different. Hours are spent on the couch, one eye on the telly, the other looking up patterns, garments, fabrics, reading blogs, and now that time has also started to include Ravelry, and actual knitting time. I thought I'd share my current list of possible future knits, mostly because I think they are so lovely!
(all images via Ravelry unless noted otherwise)
Morgat - by Army of Knitters
This is actually my current WIP - I'm nearly done, just started the second sleeve (the first sleeve took about a week) so hopefully next weekend I'll be finished! I'm making it a little longer in the body and intend to wear it with more than a pair of red knickers.
Featherweight Cardigan - by Hannah Fettig
This is my next project. It's a lovely lightweight cardigan knitted with very fine yarn - I'm going to be using a beautiful dusky pink merino-silk blend. I'm pleased to say I've been very good and actually already done my swatch. Because it's knitted flat, on pretty small needles I know it will probably take me forever, and so, as leader of Chez Tragic, I am allowing the rule that one can have at least 2 WIP's on the go, one brainless and fine, the other quicker and chunkier! This can be my brainless stockinette project that I do in my work break. This designer has several other cardi's and jumpers that are in my favourites - she seems to favour designs that use fine yarn and needles - lovely finished projects that take forever!
Cape Cod - by Thea Colman
This will be my concurrent WIP - I bought the yarn on my recent trip to Bendigo, from the Woollen Mills there - beautiful bright red wool. Such good value yarn - the giant balls are like miniature pumpkins, for $12 each!!! This is a lovely boat neck jumper, knit from the top down in the round (whoohoo, easy!) with just a little bit of lace work to keep it interesting. I really like
Jillian's lovely fitted gold version
, and felt very encouraged by her comments that it was good for a beginner (I call myself a Phase 2 beginner, Phase 1 being confident with scarves!).
The scary thing about these 2 projects is that I will have to start to learn DPN's - I've just ordered a set of bamboo DPN's off ebay (bargain - 9 sizes, 5 needles each for $13!) and might ease myself into the technique with a little hat..... I went with the
techknitters advice on the type of DPN'
s - this woman is an absolute knitting guru it seems.....
These next few lovelies are in no particular order - as I get closer to the end of the above projects I'll start sniffing around for yarn, and decide then (I'm trying REALLY hard not to accumulate a yarn stash):
The Miette Cardi - Andi Sutterland
This is a very popular and well known pattern - it's free, good for beginners and apparently quite quick to knit up. I'd love to make it in a silk wool blend but that might be a bit pricey. I'll probably make it in black, and maybe a little longer. This designer makes lovely patterns, and she's particularly well known for her seam-free designs.
Raindrops - Tin Can Knits
I just love the yoke on this - so delicate, and pretty. It's got gorgeous 3/4 sleeves too with a cute button detail. It's made in very fine yarn so will probably be a longer term project. Again I'm thinking black or maybe a dark charcoal....
Phinney - Cirilia Rose
I'm a bit undecided on this one. I love the look, especially the colour blocking of the yoke and the little puffed sleeves, but the annoying thing is that you can't buy this pattern as a PDF - it only comes in a Berocco yarn book (that contains no other patterns I'd be interested in), and I've not been able to find it in Australia. I've found it from the US, but it's going to cost me $20, and quite frankly, I'm not sure I want to pay that much when there is a zillion other sweater patterns out there to download for less than $8! I recently bought an Interweave sewing mag at my local newsagent, and it contains
this pattern
:
which I think with some more experience I could fairly easily adapt to have a similar colour blocking effect. I do love that aqua/grey combo.....
Toulouse Pullover - Leah B. Thibault
What's not to love about this? Cozy, slouchy, frenchie, top-down knit with a gorgeous neck tie, knitted in nice 10ply yarn and the pattern only costs $3!!! I've pretty much decided I'll be knitting this in a Bendigo Woollen Mill 10ply yarn called Denim, which is a lovely deep french navy.
Chuck - Andi Satterlund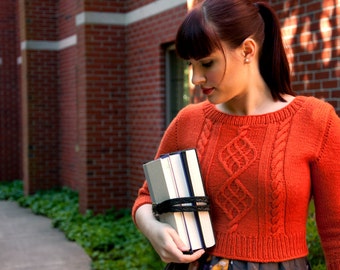 I'm not really that into the cabled look (makes me think of those cream cabled jumpers that were popular when I was a teenager in the 90's, worn with checked pants - shudder), but I think the fitted and cropped style of this in a fun colour would be great. I've got a few higher waisted skirts and dresses now, and I think a nice bright turquoise or aqua would look great, especially with my red Beignet skirt. Again Bendigo Woollen Mills will come to the rescue with their 10ply wool in either Lake or Aquarium. I'll probably make it a little longer though (that cropped length makes me think of Alicia Silverstone, in Clueless)!
Satsuma Stripes - City Purl
This is just a nice simple jumper pattern with stripes. The other night I was seriously considering risking being labelled a creepy stalker when I tried to sneak a photo of a jumper I saw a girl wearing in a restaurant. In the end I just tried to memorise it - it was a very fine knit (obviously machine knitted) with a beige background and each stripe was a different colour, but in muted shades - not bright rainbow colours - coral, grassy green, blue, black. It was so cute. I found these pics on the web to help me remember and to help me choose complimentary colours in the future. Although I might make it a grey background as beige doesn't really float my boat....
These next two patterns would be the first dip of my toes into Fair Isle knitting. I have to say that Fair Isle patterns tend to make me think of snowflakes, and reindeer, and are generally a bit dorky, but I think a bit of subtle colour work in a modern colour way and fit could be really nice in winter. The
Amira by Andrea Rangel
is fitted and cropped, and I think would look great in a grey marle with navy colour work:
I'm not sure whether I'd do the cuffs. It might be a bit much for me!
This is another
Hannah Fettig pattern - the Willard Fair Isle Pullover
- I love the chevron colour work - it's a bit different and I think would look great in a bit of a crazy colour combination, like turquoise blue and a red chevron:
I'm only putting this next pattern in because I think it is just so beautiful - if I ever get good enough to make this then I'll be very happy. Lacework and colour work! I can't even see myself pronouncing it, let alone knitting it (although the designer claims she designed it whilst hiking. I kid you not - there's photos of her walking and knitting - those bloody clever multitasking Norwegians!) - the
Fimmvörðurháls by
Hélène Magnússon
:
And finally, I've a little selection of patterns put out in the Wool People series - a collection of patterns made from Brooklyn Tweed yarn, in collaboration with various knitwear designers around the world. I've actually got at least 9 patterns in my Ravelry Favourites, but some of them are a bit too ambitious - the Brooklyn Tweed website has
all the Wool People catalogues here
- they are just so beautifully photographed - well worth an ogle! Here's my favourites:
Carpino by Carol Feller
Image via Brooklyn Tweed
This is gorgeous, but I wonder whether a big part of it is the striking mustard colour and that beautiful girl......I'd never wear that colour.....
Edie by Michelle Wang
Image via Brooklyn Tweed
This a very cute short sleeved jumper with subtle little cables around the bottom hem. Again cables that don't scream cables!
Peabody by Leila Raabe
Image via Brooklyn Tweed
This is so pretty - lace panels on the front and down the sleeves. I'm being a bit optimistic about this one in the near future...maybe in a couple of years!
So whats that - 12 or 13 patterns.... if it takes me 2 months to knit something then that's 2 years of knitting projects lined up for me! Ha! What a dreamer! What's in your Ravelry queue?