Birthday spoils, summer sewing plans and general waffling
As mentioned in my last post I recently had a birthday, and was the very lucky recipient of some fabulous sewing related gifts, from friends, family and.... myself! Gifts to self are an essential part of the birthday experience I think, don't you?! Now I warn you this is a long, rambling waffling post (I've had plenty of time to waste this weekend) but I rather like reading other sewists sewing plans, so hopefully it's not too dull!
My parents gave me the most fabulous, razor sharp German tailors shears which give me goosebumps every time I use them, they are that sharp. I've been using my mums old scissors, which are fine and sharpen up very well, but these things are fierce! They are made by Zwilling & JA Henckels, and are the Superfection Classic model - seen
here
, and are that sharp they just slice through the fabric without even opening and closing them - excitingly scary!
Mmm german steel....
I scored very well on the pattern front too. My dear bro took the not-in-the-slightest subtle hint when I emailed him
this link
, and I ended up with my very own copy of McCalls 6696, seen recently made up beautifully by both
Amy
and
Clare
. He took great pleasure informing me he had not entered a sewing shop since 1983, but found the ladies at Cleggs in the city very helpful!
Just not sure on that mid lumbar poofiness.....
I'm in the mood for some shirt dresses - I'm nearly finished one that's really an experiment, and have ground to a halt with bodice fitting issues with the
Lisette Traveler
, but I think this pattern looks like excellent value for money - so many chic chic options! I will persist with the Traveler, as it has some interesting options too (and I have a gorgeous apple printed seersucker that would be perfect for it!), but I can't wait to get into this one - I'm thinking View C will be the perfect choice for the gorgeous pink and blue striped shirting I bought at Mood in July....
A few weeks ago my love and I watched the marvellous French film
Populaire
. We love French movies, from the twee to the gritty, and this one falls into the deliciously twee category. Set in the very late fifties it tells the story of an insurance salesman training his secretary to win a speed typing competiton. Misunderstandings, unresolved romance and hilarity ensues. The fashions and soundtrack of course are marvellous - lots of kimono sleeve blouses, full skirts, pencil skirts, pussybow blouses and cats eye glasses, and Romain Duris is gorgeous.
In no way is it 'Mad Men meets the Artist'......
I particularly loved the top of one of the characters that looked to be a knit with a tie neckline, and by absolute happy chance (I mis-typed another vintage pattern number!) I found this pattern, McCalls 7004. After a bit of Etsy and Ebay searching she was on her way to me via an a Ebay seller in the USA (much cheaper than Etsy!)- present to self #1!
My next present to self was a bit more practical.... My summer sewing plans include making a knit drape front top, and I was all set to buy the Maria Denmark Day to Night top, but I was holding off because I really wanted one that also had a drape back. The only pattern I could find was from one of the Japanese Drape Drape books, but I couldn't justify the cost of the whole book when nothing else in it really is my style. I was at the point of looking up how to create a drape neckline when somehow I came across this out of print McCalls 6489 pattern, and again Ebay saved me:
Apart from the heinous back strap it's just what I wanted (I intend to do bra strap holders if it won't stay on my shoulders) and should be very easy to adapt to being a top pattern - my emerald jersey silk from Mood now has a future! It's a shame this is out of print - I think it's very stylish. I think I'll also play around with altering it to have just the back or just the front draping too.
Now my dear friend Shari is getting married next year (late March, early Autumn) and as the eldest of 3 daughters, and the first to get married in a family where weddings are a pretty big deal, this event will be fabulous. She is incredibly stylish, and just beautiful on the inside and out, and I really want to make something marvellous for her wedding. I was down the Etsy rabbit hole one night, and came across this absolute beauty in the fabulous
Mrs Depew shop
:
Oh McCalls 7003 you made me swoon. I adore those little cap sleeves and draped neckline. But I couldn't find it any smaller than a size 18, and for about $40USD I couldn't risk that I could grade it down to my size. After some dedicated research and hunting I came across an alternative:
Isn't it just as gorgeous? The darts are slightly different, but with the two skirt options, and similar sleeves and neckline it was a great alternative. Much closer to my size (maybe even the right size, I've never made a genuine vintage dress from the 60's), and a super sweet $14 later via another Ebay seller in the US I was a happy bunny. I wonder what Loretta and Alice (the previous owners!) made with it. I'm not sure which skirt option I will make - the full skirt would be fun, but the straight skirt is perhaps more chic - what do you think?
Speaking of my friend, she couldn't decide what to get me for my birthday, so gave me a discreet envelope of cash and instructions to go forth and procure what I needed for my summer sewing plans - what a girl! I had a marvellous day last week visiting several fab fabric shops and skipping out with an armful of great knits for summer tops, some bengaline for more Elle pants, denim for a Kelly skirt, and some super stretchy velvety black cord for some winter pants next year ( a remnant that was too good to leave behind).
This weekend we've spent at my in-laws weekender on the Victorian Surf Coast. I've had a very productive weekend, managing to cut out 8 garments, and trace off another couple of patterns. I find cutting out to be the most tedious and time consuming part of sewing, so to be able to have several hours where I'm not distracted by more exciting sewing tasks has been great.
I've tried to be a lot more thoughtful with my summer sewing plans - planning garments that go with things I already have, and choosing fabrics that wear well. I'm trying not to be dazzled by all the gorgeous prints out there, and focussing more on some solids and basics..... A first world problem I know many sewists struggle with! I'm also trying to be more efficient by trying to make up a more patterns that I've already made before with success...
I'm very excited as next week my love and I have taken the week off. I know I don't mention him much, but our Kombi Sunny Boy is not far off being finished and road-worthy, so I will be spending the week making curtains and covering seats, and helping my love with the final mechanical details, and building the interior - so exciting to think we can use him this summer. Hopefully I'll have some time to crack on with my summer sewing list which at this point includes:
- 3 x Maria Denmark kimono sleeve teeshirts - one navy, one striped, one red - all cut out this weekend and ready to whip up
- an emerald green cotton Beignet - cut out apart from the lining this weekend
- a denim Kelly skirt with a few little variations
- a couple of sleeveless versions of New Look 6808 - navy and black basics. I think this is a great pattern for me, and am keen to experiment with leaving out the front and back darts to create a more loose woven tank pattern.
- another
Butterick 5211 dress
this time in a bird printed rayon cut out this weekend (my 6th version!)
- a shirt pattern from an Ottobre magazine altered to have a pussy bow neckline, in a gorgeous coral silk cotton (also cut out this weekend)
- a strappy sundress made out of my awesome Tiny Dancer Liberty. I know the Sewaholic Saltspring Is super popular at the moment, but I'm not convinced that really blousey upper bodice is for me - I've seen the
Salme Sundress pattern
made up on a few french sewing blogs and I love the little collar neckline...... There's not a lot out there on the Salme patterns - I think the designs look modern and stylish - anyone made any yet?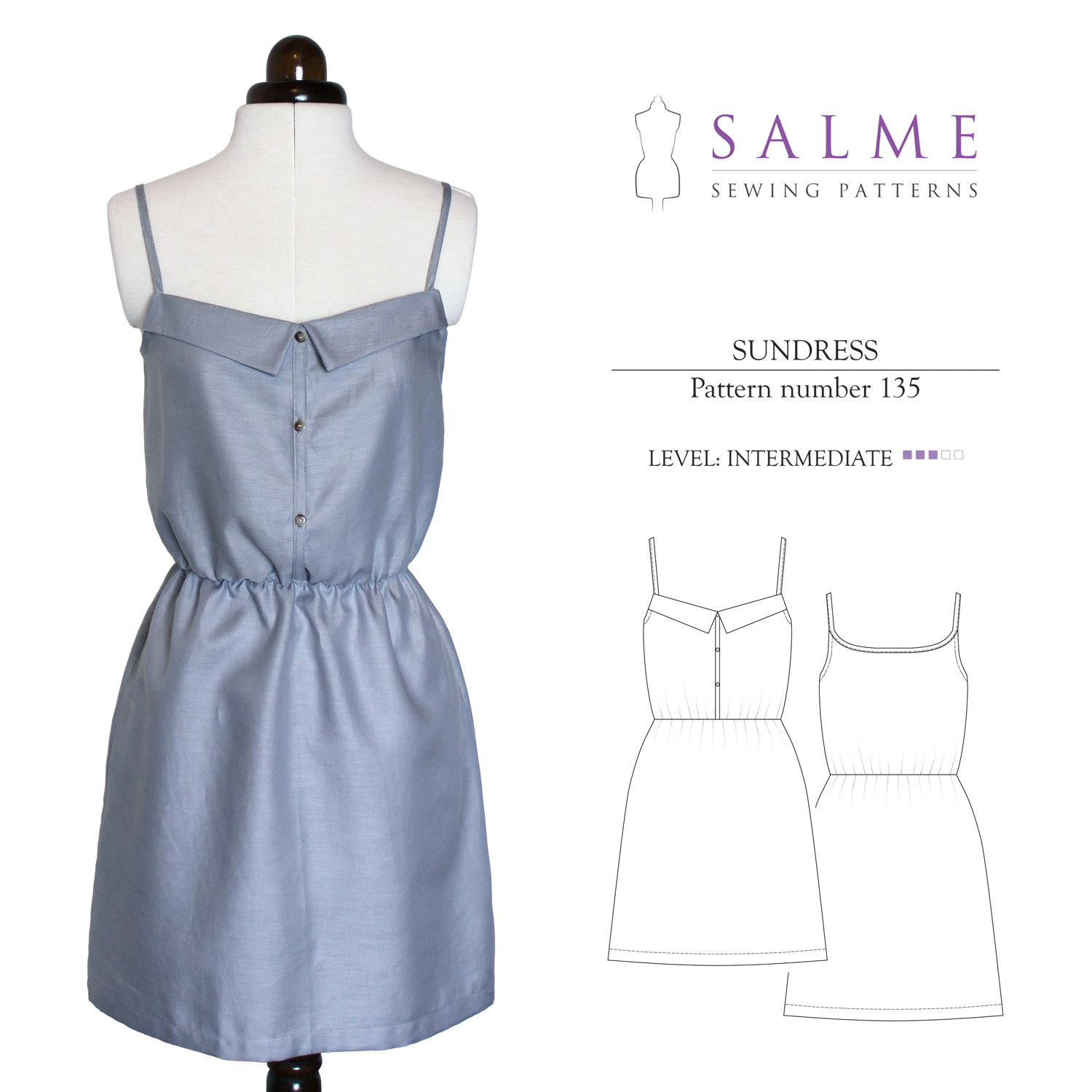 I can see this extended as a maxi dress too.....
- shorts! I've a couple of patterns in my stash that I should try - I could do with another couple of pairs that are a bit more flattering than my Iris shorts. I'd love the Grainline maritime shorts pattern, but am trying to use what I already have first....
- pants! It won't take long to whip up another pair of Elle pants in the fabulous black textured bengaline I got this week. And I'm almost finished a wearable muslin version of
Burda 7250
, which have turned out surprisingly well straight out of the packet. I've some beyond-awesome metallic linen lined up for these....
Clearly I need more than a week off - I need a month off! What are your sewing plans this season? Which dress should I make for my friends wedding? Fabric ideas? Who's made a Salme pattern? Do I need a sewing planning intervention?!