Cardi inspiration....
One of the most common gaps I've noticed in MMM participants wardrobes (including mine!) is self made cardigans. I'm a huge cardi fan, and I've barely taken my brand spankin' new knitted Featherweight off in the last week. It's the only self made cardigan in my wardrobe, and the rest are becoming tired and in need of replacing. So I thought I'd do a bit of a roundup of cardigan sewing patterns that appeal to me, because much as I love my Featherweight, taking 4 months to knit another one is a little impractical!!
Burdastyle
(all pics from Burdastyle)
Lace Jacket 03/2013
I loved this when it came out, mostly because it is pretty much identical to one of my favourite RTW cardigans in my wardrobe, right down to the bust gathering. I will give this a go, but my concern is how the button band is attached (and the fear of making button holes on knits - anyone got any tips on that one?). If I can master this pattern I'll be very well pleased.
Wrap Knit Top 11/2012
I've never personally had a wrap style cardigan, but I love the look - I'm just not certain how it will look on me. So this pattern, at only $5.99 USD is a fairly inexpensive risk (and also has the option for a full length wrap dress). It is a petite pattern though, so no doubt it will need lengthening. There are a few other similar styles on the interwebs, with
Papercut Patterns Coppelia
being one of them but I prefer these set in sleeves over the raglan for a wrap cardigan. I think before I waste fabric and time I might do some shopping research and find a RTW version to try on first....
Cozy Sweater 01/2012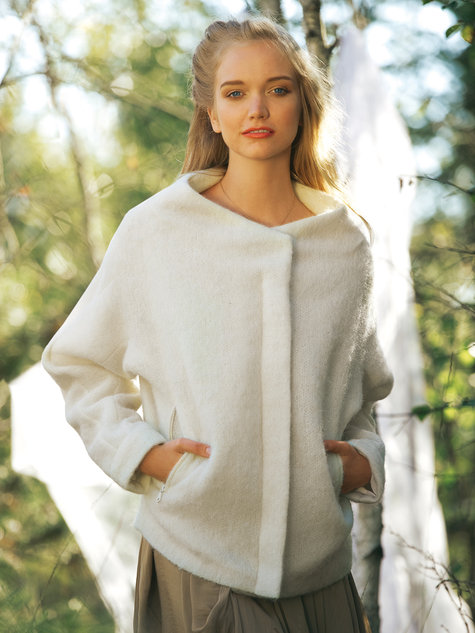 I guess this isn't truly a cardigan, but I do love that neckline and the sleeve detail, and in a less bulky fabric I think it would be cozy indeed! I think it is designed for tall ladies, according to the sizing chart. I'd probably leave out the zippered welt pockets, maybe change then to inseam pockets at the side seams and shorten it a little - it looks rather long on the model (I think it's a tall pattern). I'd also leave the front zip closure off, and use sew-on snaps - it might only need one at the top. It is designed for 'jacket fabrics' (whatever that means - I'm guessing non-stretch) but I think in a stable knit it would be gorgeous. I saw a pure wool fleece at the Fabric Store last week that would be perfect......
Burdastyle has quite a few more cardi patterns, but they're all pretty similar - long and drapey or big robe-like wraparound things. I'm happy to be cozy but I don't want to be swamped!
Big Four
Simplicity 2560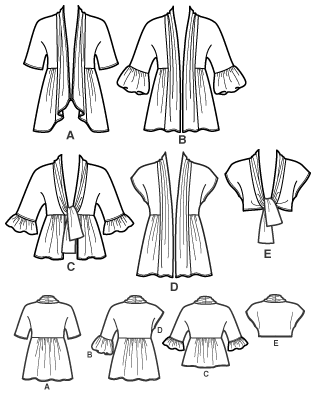 I've got a feeling this is now out of print - I bought this off Ebay, but
Simplicity 2206
is similar. Now before you think I've gone mental with these bat-shit crazy sleeve frills, the reason I'm keen to make this one is it's very similar to another favourite but aging RTW cardigan in my wardrobe. I'd be making View B in length C and with full length sleeves and less fullness in the gathering under the bust - it's actually a very flattering style. I have traced this off but am yet to cut it out. Being a dolman sleeve it will be a bit fabric hungry, but in a lovely fine merino knit I think this will be a winner. Trust me.
I like the Chanel-esque lines of this cardi, plus the little darts and the wider neck band and button band. Sure it's a bit Stepford Wives, but combined with jeans I think it'd be cute. I'd probably shorten it a little and maybe add some waist shaping. Those raglan sleeves would lend themselves to some fabulous stripe matching....
There's not much else in the Big Four range that I like.... lots of drapey waterfally patterns - meh.
Independent Patterns
Schnittchen Louise Cardigan
Schnittchen
is a German pattern company with some interesting designs. I do like this cardigan (but not the way it has been styled - that woman looks like she's wearing a nappy). At only 3.90 Euros for the PDF it's great value. I'm guessing the instructions will be in German, but that's what Google Translate is for!
The Scarf Neck Cardigan by Swoon
I'm not normally drawn to the longer drapey cardigans (I prefer mine hip length) but what I do like about this pattern (which incidentally is
free
!) is the princess seaming over the bust. It's just a bit different, and I'm keen to make this up in a shorter length. There's some great examples of colour blocking over on the Swoon website. There's lots of different body-shapes on there too and it looks lovely on all the ladies featured in their gallery. This pattern calls for a fairly fine knit. Mmm merino....
The Julia Women's Cardigan by Mouse House Creations
I love this pattern. It's so cleverly drafted and finished, and
all the finished versions I've seen
have been so flattering. I particularly love
Katy's merino version
with contrasting bands - so warm and cozy! At $9USD on either the designer's website or on Etsy and Craftsy it's priced quite well.
Saunio Cardigan by Named Clothing
I haven't been able to find any examples of this pattern made up yet. I like the sleeves, but I'm not super taken with the way the front sections hang.... It's not dissimilar to the Burda cozy cardi, but less interesting..... Not 100% on this one but could be convinced once others have taken the plunge...
Cosy Cardi by Style Arc
Style Arc has quite a few cardigan patterns, but most of them are long and drapey. The Cosy Cardi is similar to the Burda pattern - I prefer the Burda pattern when comparing them side by side.
Laura knit cardi by Style Arc
I've included this one as I do love the collar on it. But unsurprisingly I'd be wanting to shorten it to hip length!
So that's my personal top ten or so cardigan patterns. Based on personal style, value for money, wearability and being able to get a good quality finish (because ultimately I think that would be one of the most challenging aspects of self-sewn knit cardigan, particularly with a button band) I think my top picks would be the Burdastyle lace jacket, the Burdastyle Cosy Cardigan, my adjusted version of Simplicity 2560, the Swoon Scarf Neck cardi, and the Julia Cardigan.
The next big task of course is finding the right fabric! I won't buy knit fabrics without feeling them first - the quality can be so variable. I'm lucky - in Melbourne there are several great fabric shops that sell great wool knits - Darn Cheap has the occasional treasure, and the Fabric Store has an endless range of divine colourful merino knits in different weights. And Rathdowne Remnants has excellent value for money knits too - I remember last year they had a divine wool-silk blend at a very reasonable price.
So what's your favourite out of my picks? Have you made any of these? Can you suggest any other patterns that I might like? And any tips for doing buttonholes on knits?