Fab find!
I spend a lot of time down the internet rabbit hole - I follow a lot of blogs, mostly sewing/crafty/DIY ones, and its not uncommon for me to get completely sidetracked, sniffing out a trail of awesomeness and finding the most wonderful things that people have created. So I've decided I'm going to have a regular Fab Find! post showcasing some wonderful sewing/knitting/DIY/arty find that I would love to be able to make/own etc if I had unlimited skills, resources, time and money!
My first Fab Find was via
Made By Rae
. Rae is a very clever lady who has a great range of kiddie clothing patterns, and is the creator of the
famous Washi dress
. Last week she posted a very cute skirt she had made for herself out of the most beautiful Rashida Coleman-Hale 1000 Cranes fabric:
Source:
Made by Rae
This fabric made me gasp out loud - it is just so beautiful, and the rest of the fabric range is just as gorgeous. The fabric designer, Rashida Coleman-Hale, has
a great blog
and there are links off her blog to the range - it seems there are quite a few places in the States selling it already, and I think I found a UK seller too. Not sure about Australia yet.
The range is called Tsuru, which means Crane in Japanese and has very Japanese influences. The 1000 Cranes in Indigo is my favourite: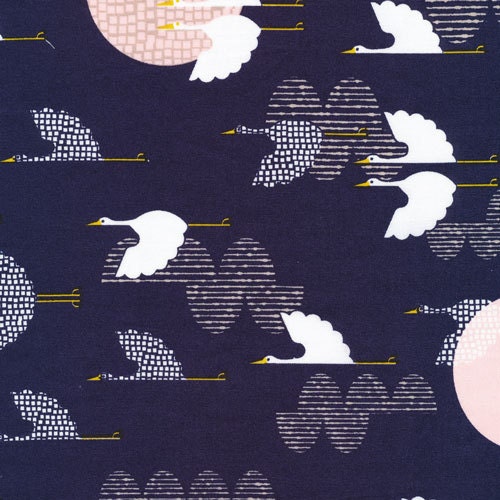 Source: Etsy
I believe in July she is releasing another Japanese inspired range called Koi. My favourite from this is the Pennants Waving in Ivory:
and It's a Plus in Grey:
Just so beautiful. So if I wasn't in severe pre-wedding stash clampdown mode I'd be very tempted.... but once we are in the States - maybe maybe!