Work in progress - New Look 6000
I'm so pleased with my current WIP -
New Look 6000
. This hot little number won't be new to the sewing blogosphere - its very well known for its awesome figure hugging 60's silhouette. From most of the posts/reviews I have read it seems to be a very easy pattern, with few fitting issues provided one accurately cuts for bust, waist and hips.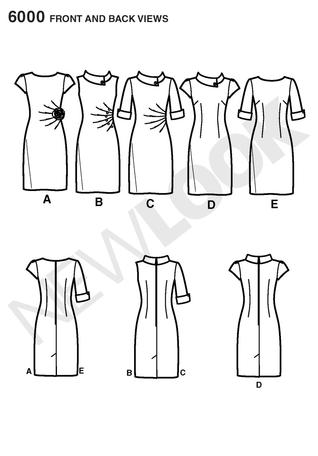 I'm making this dress for a friends wedding next weekend (only a little pressure, but I am staring down the barrel of a long weekend right now). Hopefully I finish it and hopefully this awful heatwave we are having will be over by then! I am making View E with a couple of little minor tweaks - the sleeve head on views A and D have a very sweet little tuck rather than a gathered/eased sleeve head so I will do that instead of the sleeve head on view E. Also I am considering turning the vent into a kick pleat or inverted pleat, because I intend to line the dress and I'm not sure how to do the lining. My
awesome ebook on linings I mentioned in a prior post
will no doubt help me. I suppose I could just line to the top of the vent - I'm not sure what to do. Any advice would be very welcome!
I'm making the dress in the most delicious fabric - definitely in the top 5 of delicious fabrics currently residing in my stash (maybe even the top 3!). It is a cotton/silk/poly blend I found at The Fabric Store, in Fitzroy, in the most glorious Bollywood pink. It's hard to describe the weight - it's lightweight but dense at the same time, and lightly textured with the design woven into the fabric, maybe a lightweight brocade would be the right description? Anyway I think its a miracle fabric because it doesn't crush and here's hoping it doesn't fray......
Will look beautiful with my new maroon bow heels!
So lush and pink and DIVINE!
It was $38/m but I was lucky to snaffle it in their post Christmas sales for 30% off! Whoohoo! I'll be lining it in a matching fuscia silk lining from Darn Cheap, in Heidelberg, which was a very reasonable $13.95/m. I'm very lucky to have Darn Cheap pretty much at the end of my street - silk linings for $13.95/m! Why would I have anything else at that price?? I'm going to use a tip from the Colette Sewing Handbook and have sprayed the silk lining with starch spray - at the moment it looks terribly poxy but once I have cut it and made it up to the point of attaching it to the main garment I'll handwash it and hopefully it will be lovely and slinky again! I've also ordered some rayon seam binding off Ebay from the States. I've not been able to source it anywhere in Australia and was even told in one fabric store I went to (very condescendingly) that what I wanted was bias binding, and rayon seam binding didn't even exist! So I hope it arrives in time to finish the seams as I'd love it to be as snazzily finished as possible!
I'm really pleased with my muslin - ONE VERSION! Oh the bliss. Based on my measurements I cut an 8 bust, 10 waist and 12 hips. This sounds easier than it was - this pattern has SO MANY pages and rather inconveniently they have divided the sizing into 4-6-8 on one piece and 10-12-14 on the next. I have no idea how I'm going to get the pattern back in the envelope - that bad boy has exploded!
Crikey!
It turns out the 8 bust was just a bit snug - very figure hugging and sexy (M loved it!) but I couldn't expand my lungs properly so I let out the side seams by 3/8 inch and was much happier. I just love the lower dart placement - so flattering.
I was expecting a couple of fitting issues after the Peony and unsurprisingly I had neck gapage at the front and back, and excess fabric in my lower back. I'm not sure what the neck line gapage means - maybe I have narrow shoulders? Anyway the Peony experience was such a great learning experience - it didn't take long for me to add some shoulder darts, transfer the neck gapage into the side bust dart on my front pattern piece and adjust the back piece for a sway back. I also added the extra 3/8 inch to the top of the side seams because I want to do french seams on the silk lining, and needed the extra seam allowance (and also it would have stuffed up the armscye - don't muck around with sleeves unless you know what you're doing people).
I put my muslin sleeve in wrong the first time and was a bit devo with the crappy outcome, but then I remembered I'd added the extra room starting at the top of the side seam AND not sewn my ease stitching in the correct spot so after I corrected those errors I was fairly happy with it. There is the tiniest diagonal wrinkle from the top of my bust, and I don't know what that means - if its too small or too big. It's comfortable (unlike the horror of the Peony sleeves) and there was a timely post on
A Fashionable Stitch today about the difficulty of a truly perfect fit
especially for the home seamstress, so I think I will chill out and ignore it. I've closely scrutinised many of the other 6000's out there and most ladies have a little wrinkle in the same spot, plus my crazy sea urchin muslin fabric is quite crisp, and maybe my lovely softer poppy fabric will be a little more conforming.
Its not so bad.....
Ooh sexy post dinner belly
The muslin was so quick to whip up - hopefully I get most of the construction done in the next couple of days. Tomorrow I'll start on the lining, and use it as a bit of a 2nd muslin to make sure my pattern alterations are ok. Fingers crossed! :)